Q. All these floating panels keep getting in the way. Is there anywhere I can dock them?
A. You can drag and drop Panels by their tabs onto other Panels. The only floating panel that is not able to be tabbed is the Properties Inspector. Docking with the Objects Panel is a bit tricky though. See the tutorial below to learn how.
Objects Panel Tips & Tricks- Docking Floating Panels
Author: Angela C. Buraglia
Author's E-mail: angela@dwfaq.com
Reference ID: 15617

Docking Floating Panels
You can save an enormous amount of space by stacking all of your floating panels on top of each other. Simply Click & Hold the tab of any floating Panel and drag it to another Panel. It's that easy.
Try dragging your Objects Panel onto another floating set of panels. You can't do it? Bummer... Hmmm... maybe there is another way? You betcha.
For this demo we'll show you how to add the CSS Panel (Window» CSS Styles) and the Objects Panel (Window» Objects) together.
Step 1:
Click on the CSS Styles Tab and hold the mouse key down.
Step 2:
While holding the mouse key down, drag the tab over on top of the Objects Panel. You'll see an outline of the tab being dragged along with the mouse. You may also notice that the outline of the Objects Panel becomes darker.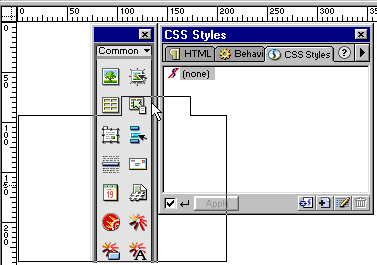 Step 3:
Once over the Objects Panel, let go of the mouse key. The result will be something like below.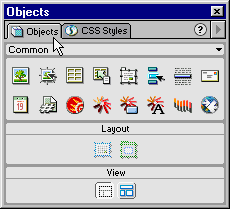 Remember: You can drag floating panel tabs to any other tabbed panel, but the Objects Panel must be a destination target only. You may not drop the Objects Panel into another floating panel.
Tip: You can also drag floating panel tabs to an empty area of your workspace, and it will become a panel by itself.