Objects Panel Tips & Tricks- Reloading Extensions
Author: Angela C. Buraglia
Author's E-mail: angela@dwfaq.com
Reference ID: 15617

Reloading Extensions
Whenever you install a new Object extension, you need to restart Dreamweaver. Wrong! You can reload Object extensions while Dreamweaver is open. This simple trick saves a lot of time, especially if you're developing extensions of your own.
With the Objects Panel Open, click on the arrow in the upper right of the panel.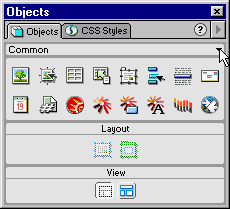 The contextual menu will appear as follows with a new option called Reload Extensions.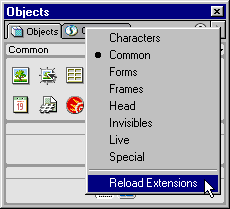 Choosing Reload Extensions will bring usually bring up a timer icon. Once that disappears your newly installed Object will be ready for use. Pretty simple huh?