Objects Panel Tips & Tricks- Icons and Text
Author: Angela C. Buraglia
Author's E-mail: angela@dwfaq.com
Reference ID: 15617

Too Many Icons to Remember
On the previous page we learned how to dock floating panels with the Objects Panel. Now you'll learn a few other tricks that may make working easier for you.
Too many icons to remember what they all are? No problem, you can fix that easily.
Edit» Preferences

or

Ctrl+U

(Windows),

Command+U

(Macintosh). The following dialog box will appear:




As indicated above, you'll select General on the left, and from the Object Panel menu, choose Icons and Text. (Of course you may choose text only, but that's a tad boring don't you think?)


Click OK.
The result will look something like this: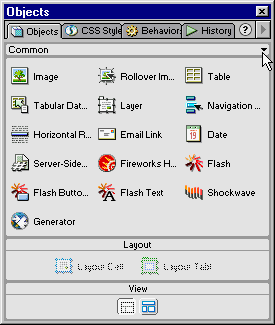 But wait there's more...